Physical Workplace.
Office.
Digital Workplace.
HulerHub.
HulerHub Digital Workplace Solutions are tailored to your exact needs. And the best part? You don't need a big fancy IT department to get going.
Manage content, comms, and cloud-based tools from one place.
A personalised digital workplace platform for everyone.
Beautiful, familiar, user-friendly OS interface.
Brand it your way.
The demo includes:
Intro call: A 15-30min chat about your needs and goals.
Your demo: A tailored live demo of your hub.
Test Drive: Explore HulerHub in full with a free 2 week trial.
Why HulerHub?
Enhance Employee Experience
A personalised digital workplace solution tailored to your users. One-size never really fits all. Give employees a platform they can make their own from day one. Your employees spend most of their working days facing a screen. So why not make it a visually engaging experience?
Watch as job satisfaction and productivity
rise to new heights. Additional autonomy and flexibility, you say? Go on then.
Access anywhere, anytime, from any device.
Effortless Collaboration
It's 10x harder to collaborate remotely or share knowledge when content it's skattered all over the place. Using HulerHub's Collections feature your team can quickly curate and share relevant materials with anyone, anywhere. Even if they don't use Hulerhub. Yep, you heard that right. So whether you're pre-boarding new starters, showcasing new products, or sharing reports with clients – collaboration is a piece of cake.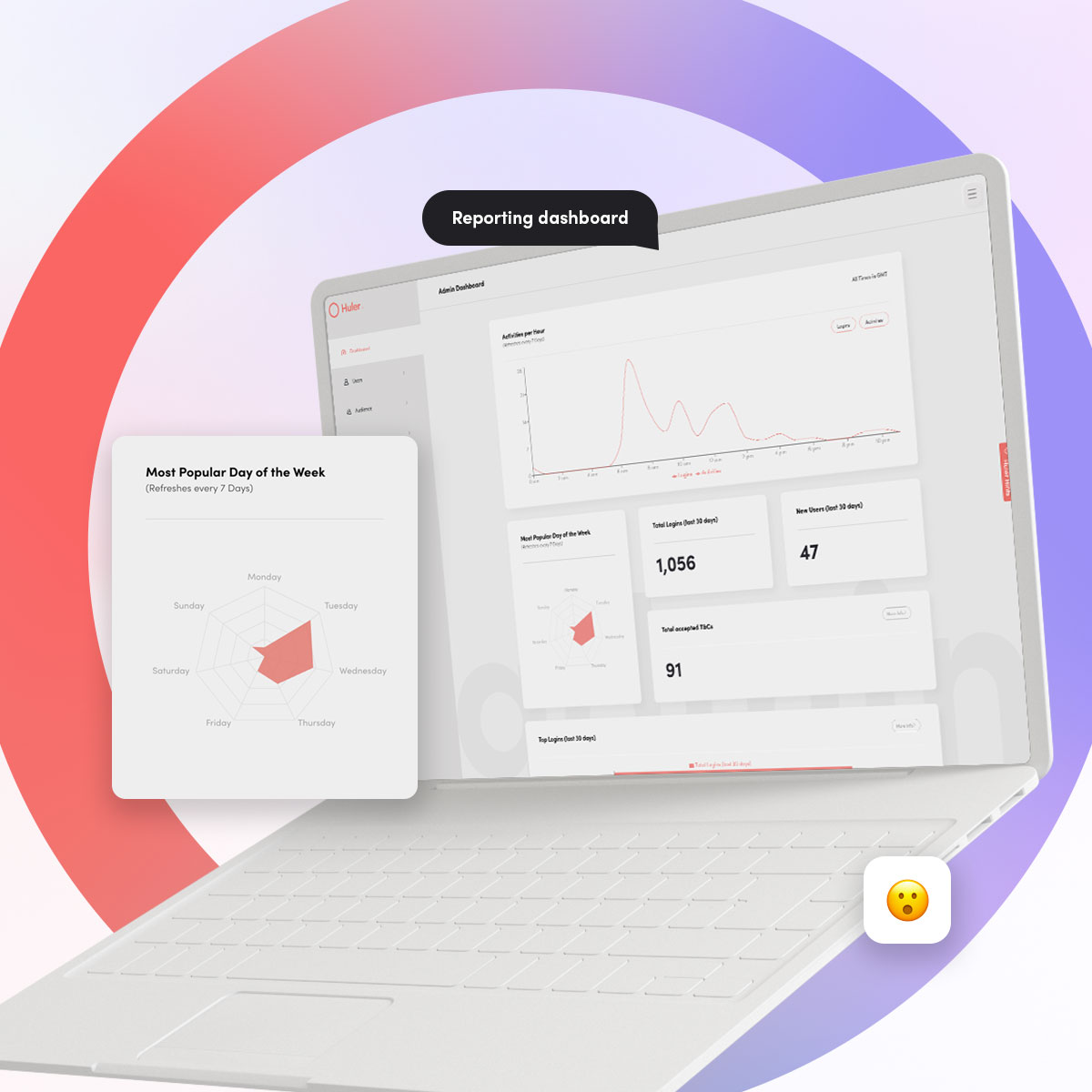 Maximise Return
on Investment
Make the most of your initiatives and investments by spotlighting them in HulerHub. No IT team necessary. Pull all your existing cloud-based software into one place. Who said streamlining tools and systems must cost a bomb? And it's not just money you'll save, but time. Having one source of truth will boost engagement and efficiency. And to top it off, get set up in days, not months.
Everyone's talking about us, and there's...
Nothing but love for Huler
"By investing in our digital learning systems we can ensure our managers have real-time access to what they need, when they need it, to help their teams learn and develop."
Hannah Thomson | Travelodge
Chief People Officer
The best places to work trust Huler.

Your Work. Your Way.
Ready to take your digital employee experience
up a gear?
DID WE MENTION IT'S FREE?